Pixel Soldiers: The Great War has just been updated with a sandbox mode and more! (see below) Download the update HERE.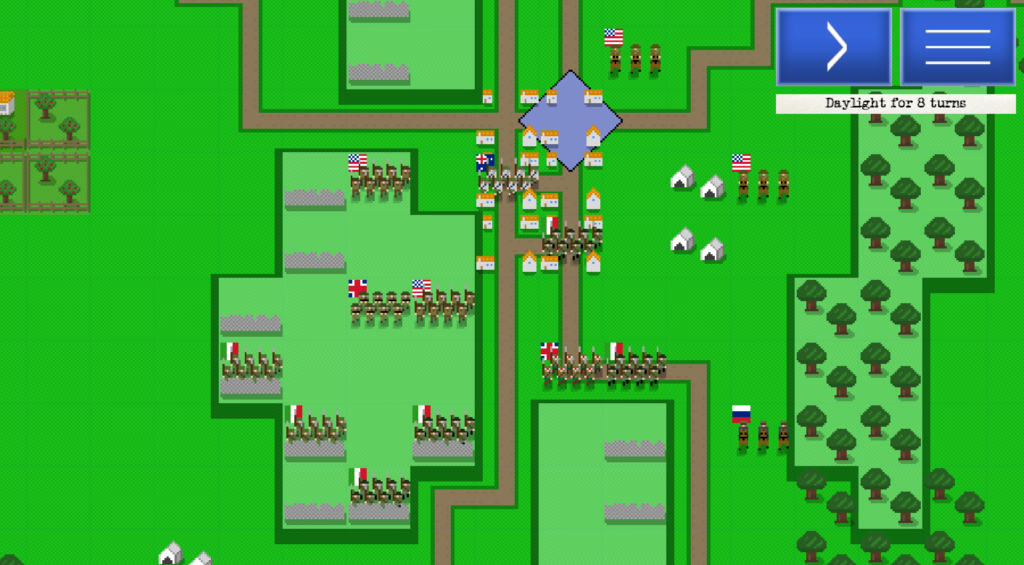 New to sandbox: Winchester! First seen in the Gettysburg Grand Campaign, the second battle of Winchester was a three day battle on a huge battlefield covered in forts and defensive terrain. The attacker will either need to be very cunning or the defending player should be handicapped for this one!
New units have been added, unit sprites updated and a new unit type: assault infantry, is available in sandbox and later scenarios in the campaign. Assault infantry are armed with submachine guns and melee weapons, making them powerful at attacking and charging enemy trenches. Like tanks, assault infantry may still attack even if they land on a barbed wire square during their turn. However, they have a limited range so you will need to keep them supported.
New countries have also been added. Italian and U.S. troops are available in sandbox mode (thanks to William for this request!). The U.S. troops have assault infantry that are modeled on the Harlem Hellfighters.
Most of the campaign scenarios have been tweaked and new units added to them (including Romanian veteran infantry).
Unit stats have been modified. For example Russians have a bonus in close combat, but are lacking when it comes to shooting.
I wanted to clarify trench defence in the tutorial. It now tells you that trench squares add 8% defence per trench level. If a trench is maxed out to level 6, the defence is 48%.
I hope you enjoy the update!