The Deploy Your Forces Update is rolling out now!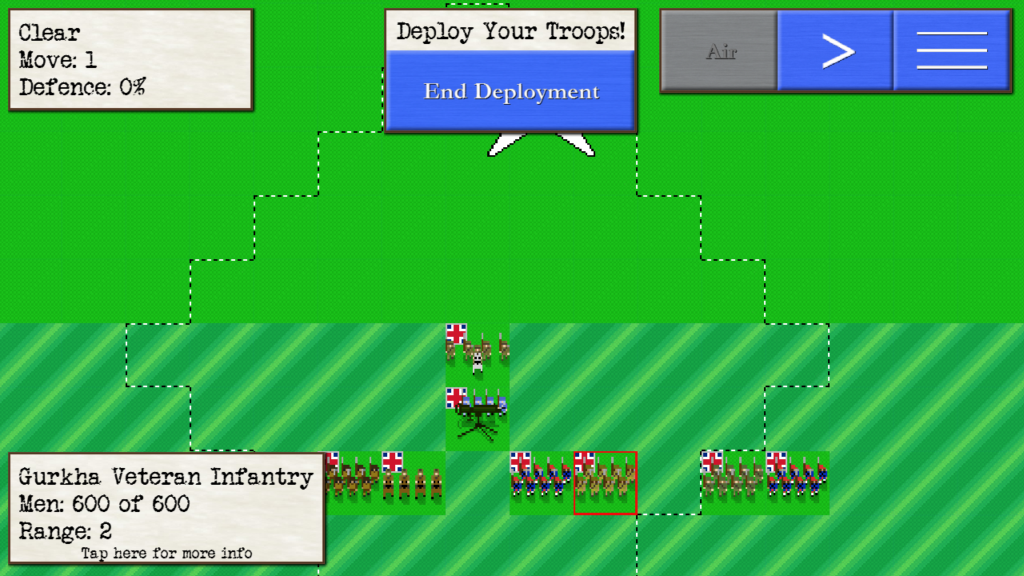 Ever wanted to decide the starting positions for your soldiers? Well now you can! In Grasslands Small sandbox map you can experiment with this new feature. If all goes well, the other sandbox maps will receive this change, and possibly future campaign scenarios!
Let me know what you think about it!
1.1 Beta 25 [The Deploy Your Forces Update] Change Log
*Deployment mode available to players for testing – Only works in 'Grasslands Small' right now.
*Units can not deploy on rivers/mountains etc
*Trench sprite changes
*Fast forward AI sometimes requires 2 taps – fixed
*Trench reduction is now a 50% chance
*Aircraft explosion animation
*Aircraft explosion when AA fire destroys it
*Breach smoke out of place. – Fixed?
*Fuel Warning
*Low fuel destroys plane
*Player receives message when plane destroyed by lack of fuel, with explosion sfx
*Increase hanger repair
*Decrease threshold for AI to send planes to the hanger
*Air screen pop up bug when AI land units moving
*HQ is now a stronger unit
*HQ description text
*Plane write ups added
*HQ now fires
*HQ graphics update
*HQ movement increased
*'High-recovery' trait applied to HQ units