Pixel Soldiers: Waterloo has reached 1000 downloads! Thank you to everyone who has supported the project! This really means a lot to me.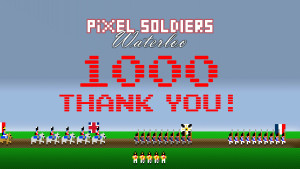 I've been thinking about the future of Pixel Soldiers and I'd love to hear what you guys would like to see next. I'm planning on making a new game that takes place during the American Civil War. It's an era I'm interested in and know a bit about.
I would just like to make it clear that if I move on to another project it doesn't mean that the Waterloo project is dead. In fact if I work with another Pixel Soldiers game, its likely to help development with the Waterloo game. I could transfer new ideas and changes between the two games.
What do you guys think?